Tel: +86-28-26388388

Fax: +86-28-26388388

Mobile: +86-180 9638 7750

Contact: Andy
Humidity Requirements in a Greenhouse-Bozong Greenhouse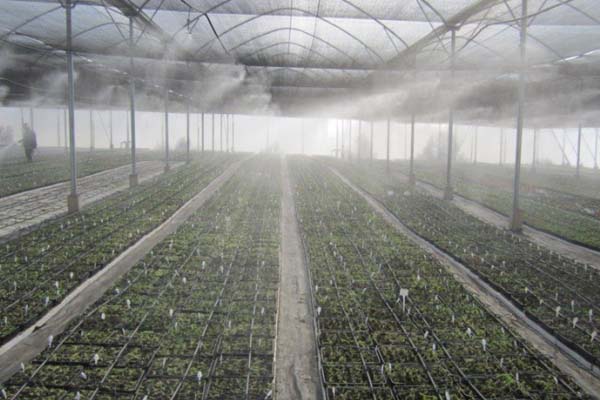 A

ll plants have small open pores in their leaves through which gases such as oxygen, and CO2 pass. Water vapor is also emitted through these pores as plants do not use all of the water that they soak up.The accumulation of water vapor is called humidity and relative humidity is the term that describes the quantity of water vapor present in the air.
A

ir temperature affects the amount of water vapor in the air and it is this relationship between air temperature and the quantity of water vapor present that gives us the term relative; for example: the quantity of vapor present is relative to the current air temperature! It is possible to measure thehumidity of air with an instrument called a hygrometer.
I

t is important to know what the humidity is in a greenhouse as most plants grow best between a certain range of relative humidity. The best range or humidity for green house plants is between 45 and 60 percent. Knowing your relative humidity also enables you to control your greenhouse growing environment as humidity that is too high (above 80%) encourages the growth of mold both on plants and within your greenhouse. Plant molds will destroy plants and will cause rot to occur in any wooden structures within your sun space (which can be very detrimental if you have a wood frame greenhouse or sun room or if you have wood shelving or a wood green house bench). Molds are also usually a great concern as they cause disease.
I

t is more common for greenhouses to have a problem with high humidity rather than low humidity. If you have a high humidity problem in your green house some remedies are: to increase circulation by installing a fan, water earlier in the day to help prevent evening humidity problems (as molds grow at night time), water only when the plants need it, buy an air-to-air heat ex changer which exchanges warm moist air with cool and dry air, or put in a ventilation system by which moist air can escape.
I

f the humidity in your greenhouse or sun room is too low it is much easier to fix than a high humidity problem. The easiest and best solution is to water more often. It is also very easy to buy greenhouse humidifiers that will easily increase your sun room humidity. These types of humidifiers are easily available at online green house supply stores.
A

s it does not rain inside greenhouses watering is a very important thing for greenhouse owners to remember! But, watering inside a green house is not just as simple as just watering your greenhouse plants everyday. Within soil there are small open air pores that roots depend on for supplying them with nutritious gases. When you water your plants these small air spaces get filled up with water and it, in effect, causes suffocation for roots. When roots suffocate, plants wilt and the most common reaction by gardeners for wilting plants is more watering! Just remember that the watering needs inside a greenhouse are different from the watering needs of your outside garden. Because the green house environment is enclosed a fair amount of moisture does get trapped and thus, less watering is usually required.
T

he best rule for watering plants in your greenhouse or sun room is: always check the soil before you water, if the soil is dry then you should go ahead and water. And, remember that plants, just like people, do not like being watered with cold water. For plants the ideal water temperature isbetween 65°F and 80°F (18.3°C and 26.7°C). Anything above 80°F (26.7°C) is too hot!
T

here are many different alternatives available for watering your greenhouse plants. Among your choices are irrigation systems, drip system, misters, water sensors and a gardener's best friend the good old watering can. Irrigation systems are wonderful for those periods of time that you plan on being away; there is nothing worse than coming home to dead plants in your green house because your best friend forgot to water them while you were away! A good selection of all of these watering systems is available at online gardening and greenhouse supply stores.
greenhouse has 35 years of professional production of greenhouse
history, in
recent years,
the company all staff's unremitting efforts, now developed into a pr
ofessional conservatory
company has
some influence.
If you want to know more, please send E-mail to sales@cngreenhouses.com